Global and ethnic flavours have become commonplace in today's grocery stores. As consumers have more access to a wide variety of tastes, food producers have responded by expanding their product offerings.
The dairy market, however, has remained relatively unchanged until recently. Consumers have demonstrated that they are willing to try new and innovative flavours, and dairy producers are embracing the challenge.
What's New in Dairy?
Innovative dairy producers have taken a leap from the typical vanilla base to offer consumers rich, complex flavours such as chocolate, coffee, and caramel. This provides a starting point for other options like honey, salt and nuts. Giving consumers both sweet and savoury experiences in the dairy realm has proved to be a success, so look for exciting new additions in the fresh and frozen dairy cases.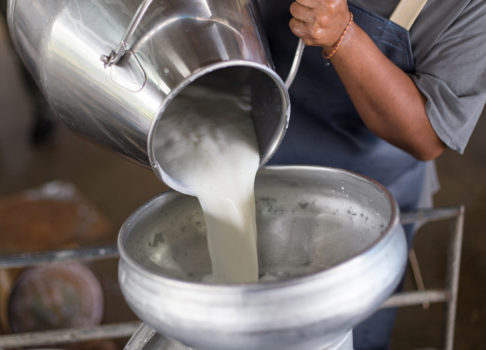 Yogurt….Yesss!
Single serve yogurt products have been a mainstay of the dairy aisle for years. Recently, however, consumer demand for bolder, richer tastes have led to an increased number of flavours and styles. Products with mix-in options have previously been a variety of fruit flavours, with an occasional nut or granola offering. Responding to the demand for innovation, companies are offering flavours such as raspberry, ginger and pepitas.
Drinkable yogurt has also stepped up to the innovation plate and has expanded to include probiotics and vegetables in a delicious beverage. The push for organic foods continues, and companies offering grass-fed yogurt drinks can embrace the trend by highlighting the health benefits of yogurt.
Cheese Please
Savoury cheese snacks are expanding their presence in grocery stores as well. Consumers have indicated a desire for more snack pack options, so cheese companies are creating craft lines that offer specialty cheeses. With flavours that are sweet, spicy, and savoury, there are more grab and go options that pair cheese with simple snacks like nuts, olives, and crackers.
Sweet Desserts
Ice cream has always been an area where consumers expect variety, and this year's dairy offerings will be no exception. By adding innovative products and flavour combinations, ice cream and other dairy desserts will continue to hold strong in the consumer market. Innovative add-ins, new single serve packaging and creative products will capture new consumers.
Mixing traditional flavours with a touch of the exotic can give consumers confidence to try something new. Shoppers who may be reluctant to try something unusual will be more inclined to give it a chance when it is paired with the familiar. Click To Tweet Healthier products with less sugar and increased flavours are also being introduced in child-friendly varieties, helping to expand the younger generation's palate and menu.
Limited edition, seasonal offerings and package redesigns are among the many new offerings that dairy companies can provide consumers. Highlighting these products can draw interest from consumers and can help drive traffic to new products. Capturing interest through store demos, displays and sales will increase the consumer awareness of dairy.
What are some ways that you plan to introduce your customers to new dairy products?
Sarab Hans is President of Hans Dairy
Founded in 1997, Hans Dairy is one of the largest Ontario businesses that specialize in South Asian dairy products.