In the past, condiments were limited to the basics: ketchup, mayonnaise, mustard and occasionally barbeque sauce. Upscale establishments may have offered steak sauce, but there wasn't much variety.
In recent years, condiments have undergone a transformation. As eating habits changed, people are more creative with their condiments, adding new spices and flavors to enhance their meals. Now, the condiment aisle has products such as sriracha mayo, chipotle ketchup and more as staples.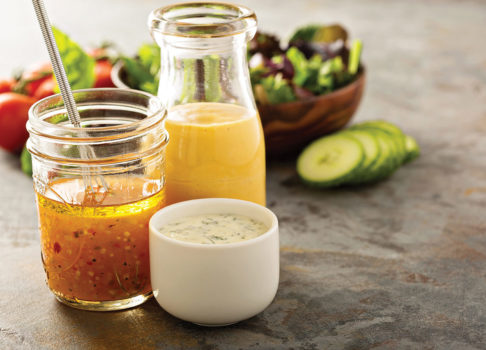 At the same time, consumers are looking for healthier options in food, and there has been a resurgence of interest in home cooked meals.
As home cooking continues to gain popularity among millennials, they're bringing their love for international flavors and foods into their own kitchens. Home cooks today are innovative and adventurous, and they want their favourite foods in a healthier format.
This trend doesn't appear to be slowing down. The demand for healthier, make at home options has made its way to the condiment aisle. In fact, The National Restaurant Association predicts that making condiments at home will be the second hottest food trend in 2018.
The interest in homemade condiments isn't surprising. Proponents of healthier eating began pointing out that a healthier burger, slathered in ketchup, was not actually healthy. Click To Tweet One tablespoon of ketchup has the equivalent of a chocolate chip cookie's worth of sugar! As consumers began reading the label on their favourite condiment, they sought out ways to keep the flavours they love but lose the unhealthy ingredients.
How can grocery stores capitalize on the trend of preparing condiments at home?
Embrace the Trend
You already stock the items your customers will be looking to purchase. Create a "Make It Yourself" display and have all the items they'll need in one convenient location. Feature a different condiment each week and provide sample recipes that they can take home.
In-Store Cooking Demos
Offer demos and tastings of homemade sauces and condiments for your customers to try. Provide recipes for popular flavours and suggestions for ways to use them.  Do a taste-test of prepared condiments versus homemade condiments, so consumers can experience the difference. .
Use Social Media
Talk about the trend on your social media channels. Ask for feedback on who has tried a certain recipe, what their favourite condiment is, or about the secret to making healthy sauces. Open a channel of communication about condiments and engage with everyone who responds. (Think this is crazy? Ask people what their favorite brand of ketchup is. People have strong opinions about condiments! Let them talk and then steer the conversation to healthier alternatives).
How does this help your business?
It shows your willingness to be more than just a transactional retailer – you are invested in helping your customers eat healthier and be successful in their cooking endeavours.
Consumers are looking for connections to the places they spend their money. By offering them information they can use, they will begin to see you as a trusted resource. As you establish a strong connection, they develop a sense of loyalty and will continue to turn to you in the future.  Pull out the saucepan, let's make some ketchup!
Mandeep Hans is Director of Sales and Marketing for Hans Dairy
Founded in 1997, Hans Dairy is one of the largest Ontario businesses that specialize in South Asian dairy products.