In recent years, consumers have begun to push for more sustainable products in the marketplace. The rise of slogans such as 'shop local', 'farm to table' and 'earth friendly' are the result of individuals who are concerned with the health of their family and the environment.
With healthier food options becoming more prevalent, consumer attention has focused on sustainable packaging as well. Green packaging has been low on the radar for the last few years, only recently becoming a major topic of concern as individuals become more aware of the impact of packaging on the environment.
Food packaging is typically derived from plastics that end up in landfills or the earth's waterways. As environmentally-conscious consumers push for more eco-friendly packaging in the grocery store, however, manufacturers are in a rush to rise to the challenge.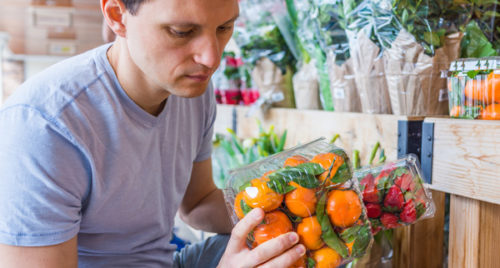 Solutions
As manufacturers work to meet consumer expectations, they are looking for sustainable solutions that are both cost effective and viable. Recent innovations have made products available that meet the demands of consumers and manufacturers.
The USDA has been developing a plastic alternative that can be used to wrap cheeses, fruits and vegetables and other foods.  It is derived from a milk protein, casein, and is both edible and biodegradable. Designed to keep food fresh and safe, this product won't stay in a landfill for decades, and uses less energy to produce.
Beauty and personal care products giant, L'Oreal has teamed up with Ecologic to create a line of environmentally friendly bottles for their beauty products. In a closed-loop system, Ecologic takes cardboard and paper waste that L'Oreal produces in their packaging plants and turns it into a sustainable paper bottle.Using their own waste products to create packaging is an impressive way to demonstrate their commitment to the environment.
These two examples of sustainable packaging can inspire other companies to follow suit in their quest to be more green.
Setbacks
One of the primary reasonings given by companies who continue to use traditional packaging is the high cost of switching to sustainable packaging. Because available eco-friendly packing is relatively new, it tends to be more expensive than its counterparts. For some companies, however, the extra cost is worth the positive impact on the environment. For others, they may be shocked to learn that consumers are willing to pay more for products that they can believe in. In fact, a 2018 Nielsen survey revealed that nearly 50% of US consumers would be willing to change their habits to reduce their impact on the environment. As a result, spending on sustainable products has grown 20% over the last five years and shows no signs of slowing down.
Going Forward
The trend of legislative bans on non-sustainable products will result in more companies looking for alternatives in packaging and processes. Brands that take the lead on environmental issues can capture the market-share of individuals who are pushing for more environmentally aware companies. As more companies adopt the use of green packaging, price points will drop. Consumers who are eager to support sustainable products will respond by supporting their efforts with their money.
Sarab Hans is Director of Sales & Marketing for Hans Dairy
Founded in 1997, Hans Dairy is one of the largest Ontario businesses that specialize in South Asian dairy products.