Back
5-Star Avocado Raiti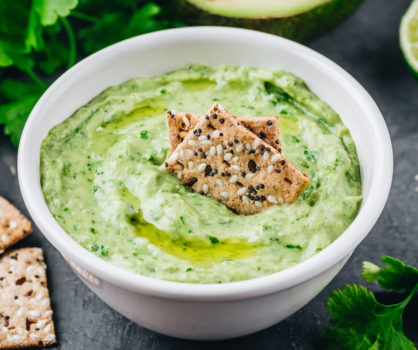 Prep Time
15 minutes
Serves
8
Print This Recipe
Ingredients
2 ripe avocados
1 medium-sized onion (very finely chopped)
2 medium-sized tomatoes (very finely chopped)
1 green chili (very finely chopped)
1/2 teaspoon red chili powder
1 teaspoon cumin powder
1/2 cup chopped fresh coriander leaves
1 tablespoon lemon juice (juice of half a lemon)
3/4 cup Hans Dairy 3.2% Dahi
¼ cup Hans Dairy Salty Spiced Lassi Yogurt Drink (whisked till smooth)
Dash of salt (or to taste)
Instructions
Remove the flesh from the avocados and put them into a mixing bowl. Mash the avocados until they are nearly smooth. Add the chopped onion, tomato, green chili, all the spices, the lemon juice and chopped coriander. Mix it up until all of the ingredients are blended. Add in the yogurt and lassi, along with salt to taste. Chill the mixture in the refrigerator and serve.
You can turn up the heat by adding more red chili powder and chopped green chilies. For a smoother texture use a food processor to blend ingredients.
We love our avocado raiti recipe and share with you our passion for cooking with our salty spiced lassi and dahi yogurt combined to add South Asian inspiration to all your family gatherings.
For family members with dairy sensitivity, we suggest Hans Dairy Lactose Free 2% Plain Dahi Yogurt. Ask your local grocer about product availability.
Online and in-store at select Coppa's, Food Basics, Fortinos, FreshCo., Loblaws, Longos, Metro, NoFrills, Real Canadian Superstore, Sobeys, Valu-Mart, Walmart, Your Independent Grocer, Zehrs and other specialty grocery stores.