Back
Asian Salmon Sliders with Creamy Citrus Sauce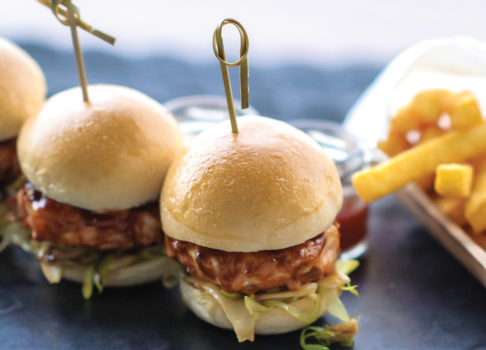 Prep Time
25 mins
Cook Time
8 mins
Print This Recipe
Ingredients
½ cup Hans Dairy 2% or 3.2% Dahi
1 tablespoon Hans Dairy Salty Spiced Lassi Yogurt Drink
Juice of ½ lime
Juice of ½ orange
1 tsp. honey
1 lb skinless, boneless salmon
1 tbsp. sesame oil
2 tbsp. low-sodium soy sauce
1 piece ginger (1 inch), chopped
2 garlic cloves, chopped
Juice of ½ lemon
Salt and black pepper to taste
½ cup bread crumbs
½ cup cilantro, chopped
2 tsp. vegetable oil
8 slider buns
Lettuce leaves chopped (optional)
Instructions
Preheat grill to medium.
Combine yogurt, lassi, lime juice, orange juice, and honey; set aside.
Wash salmon and pat dry. Chop half the fish and place in food processor along with sesame oil, soy sauce, ginger, garlic, lemon juice, and salt and pepper to taste. Process into a puree. Chop remaining salmon and add to puree along with bread crumbs and cilantro. Pulse until combined. Form into small patties and brush with oil.
Grill 4 minutes per side. Stuff buns with lettuce, burgers and top with yogurt sauce. Makes 8.
We love our salmon sliders recipe and share with you our passion for cooking with our salty spiced lassi and dahi yogurt combined to add South Asian inspiration to all your family gatherings.
For family members with dairy sensitivity, we suggest Hans Dairy Lactose Free 2% Plain Dahi Yogurt. Ask your local grocer about product availability.
Online and in-store at select Coppa's, Food Basics, Fortinos, FreshCo., Loblaws, Longos, Metro, NoFrills, Real Canadian Superstore, Sobeys, Valu-Mart, Walmart, Your Independent Grocer, Zehrs and other specialty grocery stores.