Back
Berry-Yogurt Pavlovas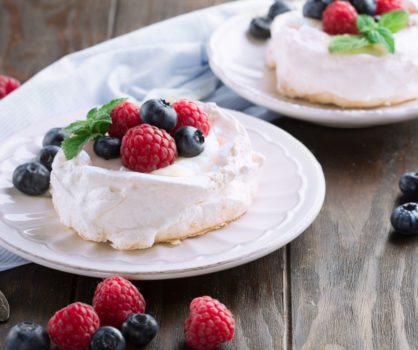 Prep Time
25 minutes
Total Time
2 hour 30 minutes
Serves
4
Print This Recipe
Ingredients
Cream Filling
1/2 cup cold heavy whipping cream
1/4 cup Hans Dairy 3.2 Natural Yogurt
1 teaspoon vanilla extract
1 tablespoon sugar
Berries
1 1/2 cups of your favorite fresh berries
1 teaspoon sugar
Meringue Nests
2 egg whites
1/4 teaspoon cream of tartar
Pinch of salt
1/3 cup sugar
1/2 teaspoon vanilla extract
Garnish
Mint leaves
Instructions
Preheat oven to 250° degrees and line a baking sheet with parchment paper or a silpat mat.
In the bowl of an electric mixer fitted with the whisk attachment, beat the egg whites, cream of tartar, and salt on high speed until frothy. Add in the vanilla then continue to whisk on high speed. Slowly add in the sugar with the mixer running until very stiff peaks form. Scoop into a four 1/2-inch mounds. Using the back of a spoon, make a well in the center of each mound; bake the meringues on the middle rack of the oven for about 1 hour, until crisp but still chewy inside. Turn off the oven and prop the door open; let cool for 1 hour.
Beat all of the cream filling ingredients in the bowl of a stand mixer with the whisk attachment on high speed. Beat until soft peaks form, about 2-3 minutes.
Toss the berries with the teaspoon of sugar in a bowl and let them macerate for at least 15 minutes.
Divide the cream filling between the 4 meringue nests. Top the cream with the berries. Garnish with mint leaves. Serve immediately.
Note: You can make the meringues a day before and store in a dry airtight container until you are ready to serve.