Back
Chai Latte Cupcakes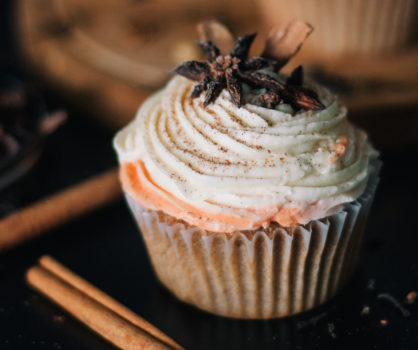 Prep Time
15 minutes
Cook Time
20 minutes
Print This Recipe
Ingredients
For the Chai Spice Mix:
1 1/2 teaspoons ground cardamom
1 1/2 teaspoons ground cinnamon
1/2 teaspoon ground ginger
1/4 teaspoon ground cloves (can substitute with All Spice or star anise)
1/4 teaspoon ground nutmeg (can substitute with All Spice or star anise)
For the Cupcake Batter:
1/2 cup butter
1 cup sugar
2 eggs
1 1/4 cups flour
3/4 of the Chai Spice (see recipe below)
1/2 cup Hans Dairy 2.0% Natural Yogurt
1/2 teaspoon baking soda
1/2 teaspoon apple cider vinegar
2 teaspoons vanilla essence
For the Icing:
1 cup butter
2 cups icing sugar
1/4 amount of chai mix (save some to sprinkle on top of cupcakes)
1 teaspoon vanilla essence
1-2 tablespoons milk if needed if the icing is too stiff/dry
Instructions
Preheat oven to 350 F.
Cream the butter and sugar together until well combined and creamy.
Add the eggs, flour, chai mix, buttermilk, baking soda, vinegar and vanilla essence and mix until well combined – be careful to not overmix.
Spoon into cupcake cases and bake for 15-20 mins. Let stand to cool.
Using a mixer, blend the butter until smooth and creamy. Now add the icing sugar, chai mix and vanilla essence and mix until all the ingredients are well incorporated.
Pipe the icing onto the cupcakes once cooled and decorate with a sprinkle of chai spice and whole spices – I used cinnamon sticks and star anise.