Back
Chickpea Wrap with Creamy Mint Sauce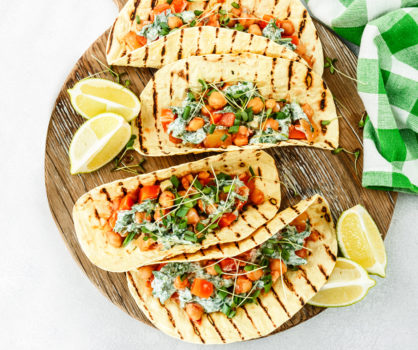 Prep Time
20 Minutes
Cook Time
7-13 Minutes
Serves
2
Print This Recipe
Ingredients
1/2 x 125g bag spinach, watercress and rocket salad
1 onion, finely sliced
1 clove garlic, finely chopped
1/2 teaspoon ground cumin
1/2 teaspoon ground coriander
1 teaspoon mild or medium curry powder
398 ml can chickpeas, drained
1 tablespoon tomato purée
Small handful fresh coriander, chopped (optional)
3 tablespoons Hans Dairy 2% Dahi
1 tablespoon Hans Dairy Salty Spiced Lassi Yogurt Drink
1/2 teaspoon mint sauce
Freshly ground black pepper
2 large soft tortillas
1/2 tablespoon olive oil
Instructions
Fry the onion in the oil for 5-10 minutes until softened. Stir in the garlic, cumin, coriander and curry powder and cook for 1 minute, then add the chickpeas and tomato purée. Add 3 tablespoons of water, stir and cook for 2-3 minutes until piping hot.
Remove from the heat and stir in three quarters of the fresh coriander, if using. Meanwhile, mix together the yogurt and lassi, mint sauce and remaining coriander and season with freshly ground black pepper. Lightly grill the tortillas over an open flame on a gas stove, or in a hot skillet on the stovetop.
Put the tortillas on plates and spoon over the chickpea mixture. Scatter over some salad leaves and drizzle over a little herby yogurt lassi sauce. Roll up tightly, then slice in half and serve with extra yogurt on the side.
We love our chicken wrap recipe and share with you our passion for cooking with our salty spiced lassi and dahi yogurt combined to add South Asian inspiration to all your family gatherings.
For family members with dairy sensitivity, we suggest Hans Dairy Lactose Free 2% Plain Dahi Yogurt. Ask your local grocer about product availability.
Online and in-store at select Coppa's, Food Basics, Fortinos, FreshCo., Loblaws, Longos, Metro, NoFrills, Real Canadian Superstore, Sobeys, Valu-Mart, Walmart, Your Independent Grocer, Zehrs and other specialty grocery stores.