Back
Easy Butter Chicken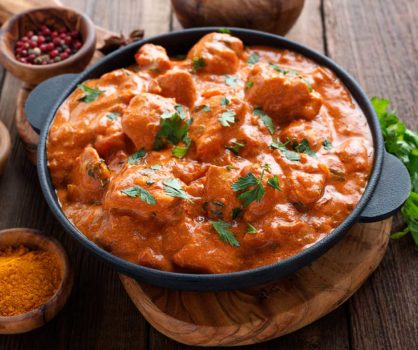 Prep Time
25 minutes
Cook Time
25 minutes
Serves
6
Print This Recipe
Ingredients
1 whole rotisserie chicken, skin removed, chopped into bite sized pieces. Or chicken breast or thighs that are already cooked
1 large onion, chopped
2-3 cloves garlic, minced
2 Tbsp grated fresh ginger root
2-3 tsp chili powder
2 tsp ground turmeric
1-2 tsp ground cumin
½ tsp ground cinnamon
1-2 tsp ground coriander
2 Tbsp butter
1-2 Tbsp brown sugar
1 Tbsp salt
1 796ml/28 fl oz can of undrained diced or whole tomatoes.
½ tsp freshly ground black pepper
2 Tbsp tomato paste (optional)
⅔ cup 10% cream
½ cup plain, Hans Dairy 3.2% Natural Yogurt
Fresh, minced cilantro
Instructions
Melt butter in a deep 10-12 inch frying pan or skillet over medium heat.
Add onions and cook slowly, stirring often, until they are tender and translucent.
While onions are cooking prepare the can of tomatoes by lightly blending with a hand blender, or mashing with a potato masher, eliminating as many chunks as possible.
Add garlic & ginger root to the onions and sauté for 1-2 minutes.
Stir in the chili powder, turmeric, cumin, cinnamon, & coriander – cook one more minute.
Pour in the can of tomatoes, whole, diced or blended.
Stir in brown sugar, salt, pepper and tomato paste (if you want to thicken sauce).
Cover, reduce heat and simmer for 15-20 minutes.
Just before serving, add the cream & yogurt and stir until fully incorporated. Heat until hot, but do not simmer or the yogurt will separate.
Add the chicken to the sauce and heat through.
Serve over hot basmati rice with cilantro to top.