Back
Frozen Berry Yogurt Bark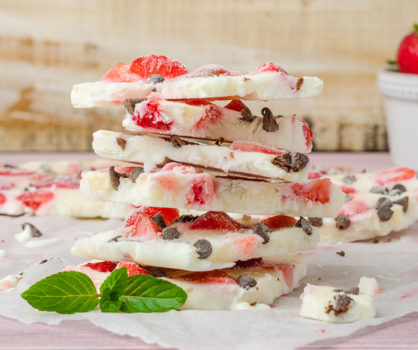 Prep Time
15 minutes
Total Time
3 hours 20 minutes
Serves
4 - 6
Print This Recipe
Ingredients
1 1/2 cups plain Hans Dairy 2.0% Natural Yogurt
1/2 cup chocolate chips
1 cup fresh berries, larger berries chopped
Instructions
Line a rimmed baking sheet with parchment paper or a silicone liner. Make sure that the baking sheet will fit into your freezer.
Pour the yogurt onto the baking sheet and use a rubber spatula to spread the yogurt into a single layer little less than 1/2 inch thick. You will not cover the whole sheet pan.
Sprinkle the fresh berries over the yogurt, along with chocolate chips and transfer to the freezer.
Freeze for several hours until firm. Cover the baking sheet in plastic wrap (without letting it touch the yogurt). Once chilled break into irregular pieces.
Tip: Yogurt will freeze solid. Set it out at room temperature for 20 mins before serving it.