Back
Grilled Yogurt Marinated Pork Kebab Recipe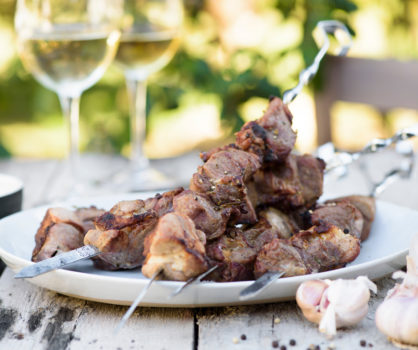 Prep Time
20 minutes
Total Time
50 minutes
Serves
4-6
Print This Recipe
Ingredients
2 cups Hans Dairy 2.0 Natural Yogurt
1/4 cup minced onion
2 tablespoons fresh lemon juice
2 to 3 cloves garlic (minced)
2 teaspoons grated ginger
2 teaspoons sea salt
2 teaspoons ground cumin
1 teaspoon ground coriander
1/2 teaspoon black pepper
2 pounds pork tenderloin (cut into 2-inch cubes). Substitute with lamb or chicken if preferred
Instructions
Combine yogurt with onion, lemon juice, garlic, ginger, salt, cumin, coriander, and black pepper in medium bowl. Place pork pieces in a resealable plastic bag and pour marinade over pork. Make sure all pieces of pork are coated well. Release air from the bag and seal well. Place pork in the refrigerator and let marinate for 4 to 12 hours.
Preheat grill to medium heat.
Thread marinated pork pieces onto skewers, about 4 to 5 pieces on each depending on the length of skewer. Do not overcrowd.
Grill over a medium fire for about 25 to 30 minutes, turning often, or until pork has cooked through (reaching an internal temperature of 140 F/60 C). Once cooked, remove from the heat and allow to rest for 10 minutes, covered, before serving. Serve these kebabs with warmed pitas and fresh salad.