Back
Hans-Down The Easiest, Yummiest Parfait Ever!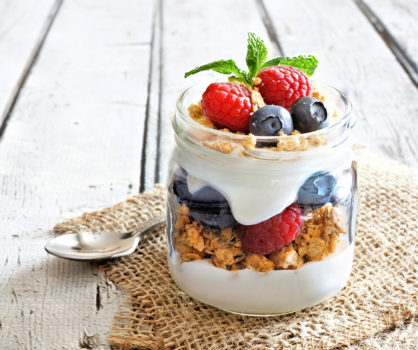 Prep Time
10 mins
Print This Recipe
Ingredients
2 cups of plain Hans Dairy 2.0% or 3.2% Natural Yogurt
1 tsp. of honey
1 cup of fresh fruit (blueberry, raspberry, strawberry, etc.)
⅓ cup of granola
Pinch of cinnamon or nutmeg
Sprig of mint
Instructions
Stir honey and yogurt, set aside. In two mason jars or glasses, take turns layering the yogurt mixture, rolled oats and fruit. Top each glass with a dusting of the cinnamon or nutmeg and a sprig of mint. Enjoy!