Back
Healthy Zucchini Bread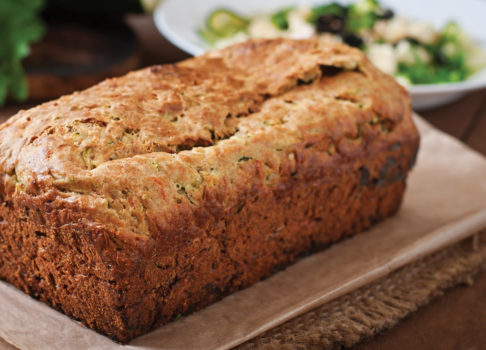 Prep Time
15 mins
Cook Time
60 mins
Oven Temp
325°F
Print This Recipe
Ingredients
1 cup white, unbleached all purpose flour
1 cup whole wheat flour
1 teaspoon baking soda
1 teaspoon baking powder
1-1/2 teaspoon cinnamon
2 medium zucchini, about 1 pound, will be about 2 cups once shredded
1/4 cup honey
1/2 cup white granulated sugar
1/2 teaspoon salt
1/2 cup plain, Hans Dairy 2.0% Natural Yogurt
2 large eggs
6 tablespoons coconut oil or melted butter, melted and cooled
Instructions
Preheat oven to 325 degrees, with the oven rack in the middle position. Grease a 9 x 5 inch loaf pan. Dust with flour, tapping out any excess.
In a large mixing bowl, combine the flours, baking soda, baking powder, cinnamon and salt. Whisk to combine. Shred the zucchini using the coarse holes on a box grater, both peel and flesh. Place the shredded zucchini in a clean dish towel (or strong paper towels) and squeeze out any extra moisture. Set aside.
In a medium mixing bowl, combine the shredded zucchini, white sugar, honey, yogurt, eggs, and oil/butter. Stir to combine. Transfer the shredded zucchini and wet ingredients into the flour mixture. Fold until combined. Pour batter into prepared loaf pan. Bake for 60-70 minutes, until golden and a toothpick inserted into the centre comes out clean. Cool in the pan for 10 minutes, then transfer to a wire rack for another 10 minutes. Slice and serve.