Back
Lentil Soup With Cauliflower and Yogurt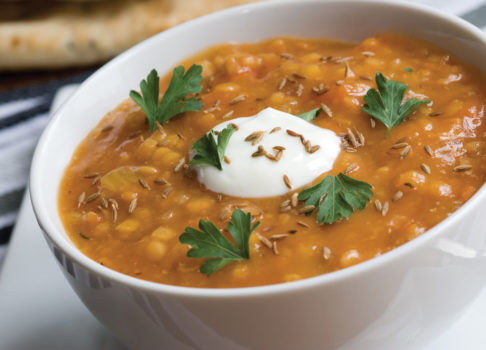 Prep Time
20 mins
Cook Time
50 - 60 mins
Serves
8
Print This Recipe
Ingredients
1 1/2 tbsp. olive oil
1 1/2 carrots, finely chopped
1 onion, finely chopped
1 1/2 celery stalks, finely chopped
1/2 head (16 ounces total) cauliflower, cut into bite-size florets
1/2 cup plain Hans Dairy 2% or 3.2% Natural Yogurt
6 1/2 cups (1538 ml) of vegetable broth
1 bay leaf
1 1/4 cup (9 ounces) lentils, rinsed and drained
1 garlic clove, minced
3 tbsp lemon juice
1/2 tsp ground black pepper
1/3 cup canned crushed tomatoes
Italian Parsley to garnish
Instructions
Heat the oil in a soup pot over medium heat. Stir in the carrots, onion, celery, and garlic. Cover and cook until the onion begins to turn translucent, 5 minutes. Stir in the tomatoes, lentils, and 6 1/2 cups of the broth. Bring to a boil and immediately reduce the heat. Skim off any froth that comes to the top and stir in the bay leaf. Cover and cook until the lentils are tender, 40 to 45 minutes, adding broth as needed.
Stir in the cauliflower. Partially cover and cook until the cauliflower is tender, 5 to 8 minutes. Stir in the lemon juice and the pepper. Discard the bay leaf.
Serve garnished with the yogurt & fresh parsley.