Back
Pulled Jerk Chicken Sandwiches with Yogurt Slaw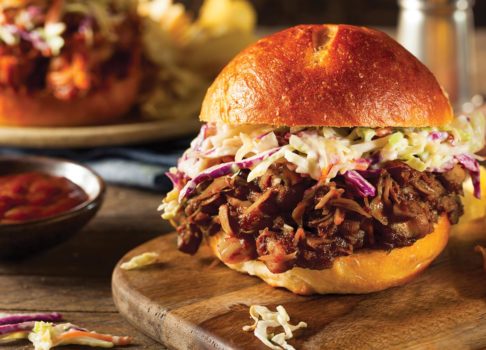 Prep Time
25 mins
Cook Time
20 mins
Oven Temp
350°F
Print This Recipe
Ingredients
1 lb boneless, skinless chicken breasts
2 tbsp Jamaican-style jerk marinade and sauce
1 tbsp extra virgin olive oil
1 1/2 tbsp apple cider vinegar
1 tbsp Dijon mustard
2 tsp sugar
1 tsp smoked paprika
1 tsp kosher salt
2/3 cups Hans Dairy 3.2% Natural Yogurt
1/2 tsp freshly ground black pepper
1 bag coleslaw mix
Salt and black pepper to taste
4 brioche buns, toasted
Hot sauce, to taste
Instructions
Preheat the oven to 350°F. Cut the chicken into 2″ pieces and toss with the jerk sauce. Heat the oil in a large oven-proof skillet on high. When it's hot, add the chicken and then immediately transfer the skillet to the oven.
Roast the chicken, turning the pieces once, until cooked through, 15 to 20 minutes. Transfer the chicken to a plate and let it cool so you can handle it. Then shred.
Whisk together the yogurt, vinegar, mustard, sugar, paprika, salt, and pepper; toss this with the coleslaw mix and season to taste with salt and pepper. Make sandwiches with toasted buns, chicken, and slaw. Serve with hot sauce.