Back
Pumpkin Pie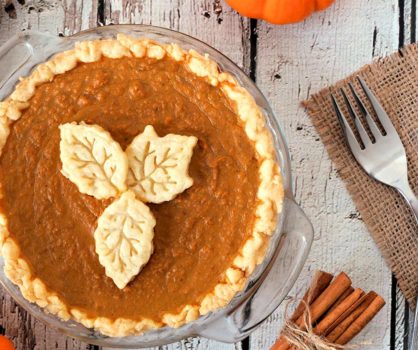 Prep Time
15 minutes
Cook Time
50-65 minutes
Serves
8
Print This Recipe
Ingredients
3 large eggs
1 (15-ounce) can 100% pumpkin puree
1/2 teaspoon salt
1/2 cup Hans Dairy 2.0 Natural Yogurt
Pinch of ground cloves
1 cup firmly packed dark brown sugar
1 teaspoon pure vanilla extract
1 ½ teaspoons ground cinnamon
1 teaspoon ground ginger
1/2 teaspoon grated nutmeg
2 small (5-ounce) cans evaporated milk
2 tablespoons Unbleached All-Purpose Flour
1 store bought or homemade unbaked 9-inch deep-dish pie shell
Instructions
PREHEAT oven to 425°F.
Whisk eggs until frothy in medium bowl. Add pumpkin and flour and whisk together well. (Alternatively, combine all three in blender or food processor.)
Add yogurt, evaporated milk, sugar, vanilla, spices and salt and whisk again. Pour pumpkin mixture into pie shell. Bake for 15 minutes.
Reduce temperature to 350°F and bake pie for 35 to 40 minutes longer or until pie is no longer wobbly in centre.
Cool to room temperature. Refrigerate if not serving immediately. Serve with whipped cream if desired.