Back
Roasted Salmon With Yogurt Dill Sauce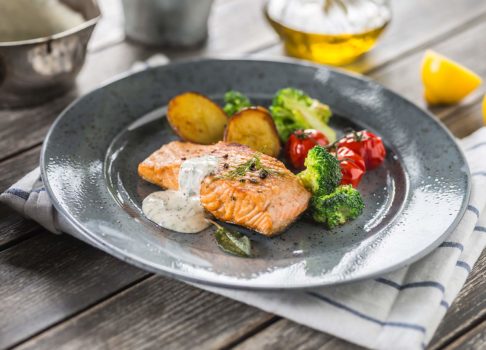 Prep Time
15 mins
Cook Time
15 mins
Serves
4
Print This Recipe
Ingredients
4 portions of salmon fillets
1 tablespoon olive oil
salt and ground black pepper
Sauce
1/2 tablespoon fresh chives, minced
1 tablespoon lemon juice
1 tablespoon fresh dill, minced
3/4 – 1 cup Hans Dairy 3.2% Natural Yogurt
1 garlic clove
salt, ground black pepper, to taste
Instructions
Make the yogurt sauce in advance and store in the refrigerator or prepare it while the fish is in the oven.
Mix the yogurt, lemon juice, dill and chives. For the garlic, smash it lightly and add it to the sauce and then remove it before serving. This will give a mild garlic flavour to the sauce but won't be too overpowering. You can also mince the garlic, or grate it on a microplane, if you want to have a stronger garlic flavour. Season with salt and ground black pepper to taste.
Preheat the oven to 500 degrees Fahrenheit. Place a rimmed baking sheet into the oven to heat up.
Meanwhile, season each salmon fillet with salt and pepper and rub each fillet with oil all over.
When the oven has preheated to 500 degrees and the baking sheet has been in the oven for about 10 minutes, take out the baking sheet and place the salmon, skin side down, onto the searing hot baking sheet. You will hear it sizzle and the skin will start to sear right away.
Place the fish in the preheated oven. Reduce the heat to 250 degrees and roast the fish for 12 – 15 minutes.
Serve the salmon with the yogurt sauce.