Back
Spaghetti with Caramelized Onions and Yogurt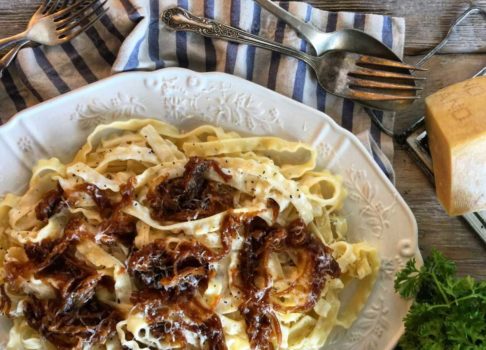 Prep Time
10 minutes
Cook Time
45 minutes
Serves
6
Print This Recipe
Ingredients
2 tablespoons extra-virgin olive oil, plus more for drizzling
3 pounds onions, halved and cut lengthwise into 1/4-inch-thick slices
5 sprigs fresh thyme
1 bay leaf
3 tablespoons dry white wine
Coarse salt and freshly ground pepper
1 pound plain or whole-wheat spaghetti
3/4 cup fresh flat-leaf parsley leaves
2 cups of Hans Dairy 2% Natural Yogurt
Instructions
Combine oil, onions, thyme, bay leaf, and 1 teaspoon salt in a large sauté pan; cook over medium heat, stirring occasionally, until onions are tender and golden brown, about 1 1/2 hours. If the pan becomes dry, add water, 1 tablespoon at a time, to prevent onions from burning.
Add wine, and bring to a boil, scraping up browned bits with a wooden spoon. When wine has evaporated, remove pan from heat; discard thyme sprigs and bay leaf.
Meanwhile, bring a large pot of water to a boil. Add pasta; cook until al dente. Drain. Stir pasta, parsley, and 1 teaspoon salt into onions; season with pepper.
Divide pasta among 6 bowls. Top each serving with 1/3 cup yogurt, drizzle with oil, and season with pepper.
Pasta with yogurt is a classic pairing in Greek, Turkish, and Lebanese cuisines.