Back
Spiced Kofta Sliders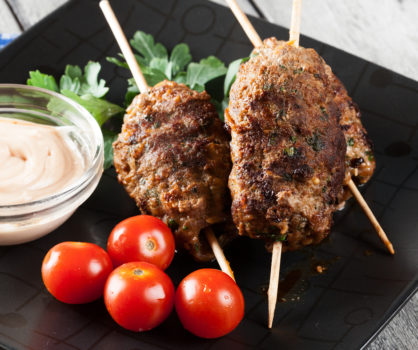 Prep Time
50 mins
Cook Time
4-8 mins
Serves
4
Print This Recipe
Ingredients
1/3 cup bulgur
1/3 lb ground lamb
1/3 lb ground 95% lean beef
1/2 medium onion, grated
4 cloves garlic, minced
1/4 cup finely chopped mint
1 1/2 tsp red curry paste
1/4 tsp freshly ground black pepper
1 medium tomato, chopped (about 1/2 cup)
1/2 tsp ground allspice
1/2 medium cucumber, grated and spun dry in salad spinner (about 1/2 cup)
1/3 cup Hans Dairy 3.2% Dahi
1 tablespoon Hans Dairy Salty Spiced Lassi Yogurt Drink
3/4 tsp ground cumin
Salt to taste
12 lettuce leaves
1/4 tsp ground coriander
Oil for brushing
Instructions
Soak bulgur in 1/3 cup hot water for 1 hour, and then drain any excess water. Combine bulgur, lamb, beef, onion, garlic, mint, curry paste, cumin, allspice, and coriander. Chill, covered for 30 minutes.
Mix cucumber, yogurt, lassi and pepper in small bowl. Season with salt. Preheat grill to medium high. Divide mixture into 8-12 balls, then roll each ball on a board with a cupped hand to turn them into ovals. Season with salt.  Thread onto skewers and brush with oil.
To cook on a griddle: heat the pan until you can feel a good heat rising and cook for 3-4 mins each side. Don't turn until they are well sealed, or the meat will stick to the grill or pan.
Wrap each patty in a lettuce leaf and serve with yogurt, lassi sauce and tomato.
We love our kofta sliders recipe and share with you our passion for cooking with our salty spiced lassi and dahi yogurt combined to add South Asian inspiration to all your family gatherings.
For family members with dairy sensitivity, we suggest Hans Dairy Lactose Free 2% Plain Dahi Yogurt. Ask your local grocer about product availability.
Online and in-store at select Coppa's, Food Basics, Fortinos, FreshCo., Loblaws, Longos, Metro, NoFrills, Real Canadian Superstore, Sobeys, Valu-Mart, Walmart, Your Independent Grocer, Zehrs and other specialty grocery stores.