Back
Triple Chocolate Grand Marnier Cheesecake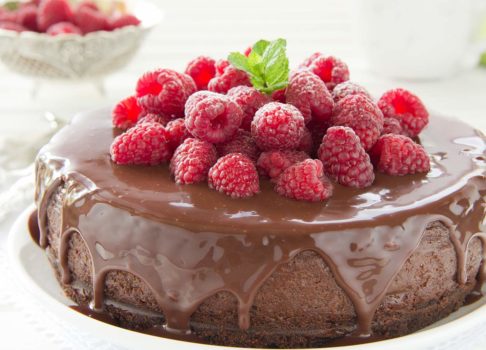 Prep Time
20 mins
Cook Time
40-50 mins
Serves
16
Print This Recipe
Ingredients
Filling:
2 (8 oz.) pkgs. cream cheese
1 cup sugar
3 eggs
1/2 cup Hans Dairy 3.2 Natural Yogurt
8 squares semi sweet Bakers chocolate, melted
1/4 cup Grand Marnier liqueur or coffee
Crust:
1 1/3 cups chocolate crumbs
1/3 cup melted butter
Glaze:
4 squares semi-sweet Bakers chocolate
½ cup heavy whipping cream
Garnish:
Fresh raspberries
Mint leaf
Instructions
Preheat oven to 350°F
Mix cookie crumbs and butter, press into a 9″ spring-form pan.
Mix cream cheese, sugar with a mixer or food processor until smooth. Add eggs and liqueur, then melted chocolate. Incorporate yogurt. Pour mixture over crust.
Bake for 40-50 min. or until center is set. Remove from oven, let cool completely and refrigerate overnight. Run knife around rim of pan to loosen cake before opening mold. Remove spring-form and place cake on a serving dish.
Prepare glaze, Place cream in a saucepan and warm over low heat.  Add chocolate and stir until melted and smooth. Pour your glaze evenly over the top of your cake until desired coverage is reached. Once set, top with raspberries and mint leaf.