Back
Waldorf Salad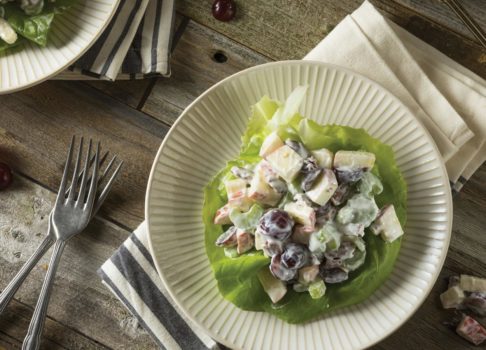 Prep Time
20 mins
Serves
2
Print This Recipe
Ingredients
1/4 cup Hans Dairy 3.2% Natural Yogurt
1 tbsp. fresh lemon juice
1/2 tsp. coarse salt
1/4 tsp. ground pepper
1 (about 2 cups) apple, cored and cut into 1/2-inch pieces
1 (about 1/2 cup) celery, thinly sliced crosswise
1/2 cup halved red seedless grapes
4 Boston lettuce leaves
1/2 cup chopped toasted walnuts (optional)
Instructions
In a medium bowl, whisk together yogurt and lemon juice; season with coarse salt and ground pepper.
Add apple, celery, red seedless grapes, and toasted walnuts; toss to coat with dressing. Cover; refrigerate until ready to serve, up to overnight.
Divide salad in half; serve each portion on 2 Boston lettuce leaves.