Back
Waldorf Salad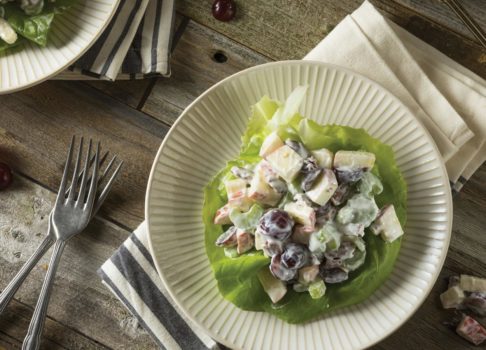 Prep Time
20 mins
Serves
2
Print This Recipe
Ingredients
1/4 cup Hans Dairy 3.2% Dahi
1 tablespoon Hans Dairy Salty Spiced Lassi Yogurt Drink
1 tbsp. fresh lemon juice
1/2 tsp. coarse salt
1/4 tsp. ground pepper
1 (about 2 cups) apple, cored and cut into 1/2-inch pieces
1 (about 1/2 cup) celery, thinly sliced crosswise
1/2 cup halved red seedless grapes
4 Boston lettuce leaves
1/2 cup chopped toasted walnuts (optional)
Instructions
In a medium bowl, whisk together yogurt, lassi and lemon juice; season with coarse salt and ground pepper.
Add apple, celery, red seedless grapes, and toasted walnuts; toss to coat with dressing. Cover; refrigerate until ready to serve, up to overnight.
Divide salad in half; serve each portion on 2 Boston lettuce leaves.
We love our Waldorf salad recipe and share with you our passion for cooking with our salty spiced lassi and dahi yogurt combined to add South Asian inspiration to all your family gatherings.
For family members with dairy sensitivity, we suggest Hans Dairy Lactose Free 2% Plain Dahi Yogurt. Ask your local grocer about product availability.
Online and in-store at select Coppa's, Food Basics, Fortinos, FreshCo., Loblaws, Longos, Metro, NoFrills, Real Canadian Superstore, Sobeys, Valu-Mart, Walmart, Your Independent Grocer, Zehrs and other specialty grocery stores.