Back
Yogurt Vanilla Cupcakes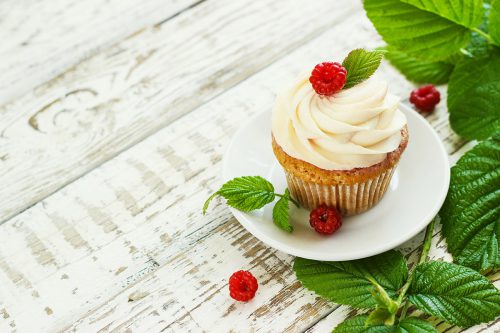 Prep Time
20 mins
Cook Time
15-17 mins
Oven Temp
350°F
Print This Recipe
Ingredients
1 cup sugar
1 ¾ cups all-purpose flour, sifted
1 ½ tsp. baking powder
½ tsp. salt
½ tsp. baking soda
¼ cup unsalted butter, softened
1 tsp. vanilla extract
2 large eggs
⅓ cup Hans Dairy 3.2% Natural Yogurt
¼ cup canola oil
⅔ cup milk
Instructions
In a medium bowl, combine the sugar, flour, baking powder, baking soda and salt, Set aside. In a large bowl, cream the butter. Stir in the eggs, vanilla, yogurt, canola oil, and milk. Add the dry mixture into the wet mixture and stir until just combined. Fill paper-lined muffin tins about ⅔ of the way, and bake for 15–17 minutes. Cool cupcakes completely before frosting. (Count cupcakes if you plan to leave the room).
Cream Cheese Frosting
8 oz pkg of cream cheese (room temperature)
4 Tbsp maple syrup (more if you prefer it sweeter)
Place both ingredients in food processor and blend until smooth. Top each cupcake with a dollop of frosting.